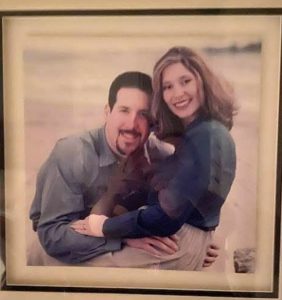 Jeremy
I am completely heartbroken, as is our whole legal community and almost everyone who knew dear Jeremy, and wanted to write you something. Words failed me for 24 hours. I've been shocked.
Just a week ago I was shmoozing with him in court. He was someone I always looked forward to running into. We shared and joked about being Jewish. (Once we had a few of us together in court we would declare a minion… look it up). We joked pretty much about everything and anything. He was funny, right? I imagine him squinting as he laughed. He laughed easily at my jokes. He poked fun of me.
I knew he was someone enjoyable to run into in the busy these courtroom because he would welcome me. Smile at me. Make it a better day.
A few years ago when I was working in Harbor Court we had a case. Somehow we meandered off to a jury room to negotiate it quietly out of busy Calendar court. We ended up on a lengthy discussion about the justice system, life in general, our families, and basically the meaning of life. I saw a different side of Jeremy. As he spoke he told me about his love for his beautiful wife and his children. He shared the struggles they faced over the scary surgeries their son had undergone. He expressed enormous admiration and love for his wife, for her medical research, her courage and her relentless fight on behalf of all of them. He teared up.
I was touched and surprised. Up to this point I didn't know him that well. Our children went to preschool together. I knew him as a public defender and private attorney for all his years in practice. We share many mutual friends. But this was a new side to this deep, thoughtful, loving man and I was honored he shared these personal moments and emotions with me.
I thought I was special to get this part of him that day and be one of his good friends until I read more about him yesterday and spoke to numerous people in and out of court. Oh. I realized, I wasn't anyone unique … HE WAS. He touched everyone this exact way. He enjoyed thousands of little authentic moments with people. He met them exactly at their level giving of himself in his own way and connecting to others. There is no greater gift to unfold a life full of these moments of love and connection. I think he did this again and again making himself so very memorable to all of us who knew him.
That day stuck with me. The man I knew before was not the same. He was deep. Thoughtful. Loving. Huge. Filled with commitment to face struggles and be there for his beautiful wife and children. He was mindful and thoughtful about his job defending his clients. I was, to say the least, impressed. But more than that honestly, I was touched.
I think of one day in court he liked to tease me about. Somehow I think it's so important to spell out everything that challenges court reporters and clerks. As I was spelling "N is for Nancy…. E like eggplant "… I got to the letter T and said "T is for teabag". I looked over to the custody cage where Jeremy was as I heard him make a sound. He was laughing so hard he was crying. Tears coming down his face. This made his in custody clients laugh. For some time he would tease me and make me laugh at myself at the absurdity and humor of this silly moment. I can see him laughing at me now. His laugh memorable and his smile a lightbulb lifting me out of my intensity always.
Just a week ago I was feeling down over parenting teenagers (something we discussed a lot) and the pandemic and honestly the grind of West Court and disorganization during the endless relentless pandemic. Oh was I happy to run into my friend. I knew he would pick me right up with the right words. I complained to him and he nodded. He agreed. "This pandemic sucks. It's hard." He was as usual so patient, kind and caring. I wish I knew then it might be the last time I could talk to him. I would've hugged that big bear of a man. I would not have complained. Those complaints are so trivial now. I just want him back to complain to. I would have told how great he was and what he meant to so many.
I am profoundly sad about his loss. I took for granted that this larger than life good guy would be here. He was too young to be taken. He loved his people. He would joyously dance at his daughter's wedding. He loved hard. He was a fierce lawyer well respected by everyone. He loved food and was generous and charitable in the community. He was taken before his good work here was done. It's not fair. As I sat in court looking at the defendant I was there to prosecute who beat his wife in front of his kids… I thought It's just backwards.
I will miss Jeremy. I keep thinking it must be a mistake. He was far too vivid and full of life and love and too young to be taken. I am so sorry for his dear family. His life will be an inspiration to my own. May we all connect and love each other daily like he did. The world would be a better place. It was far better with and because of Jeremy.







by